The most delicious Sausage Pasta that's easy to make and packs in so much flavor with lean turkey sausage, tender cauliflower, and a quick tomato sauce.
Jump to Recipe keyboard_arrow_down
342 CALORIES

52g CARBS

14g FAT

20g PROTEIN
8 Green
8 Blue
8 Purple
MyWW® SmartPoints™ New!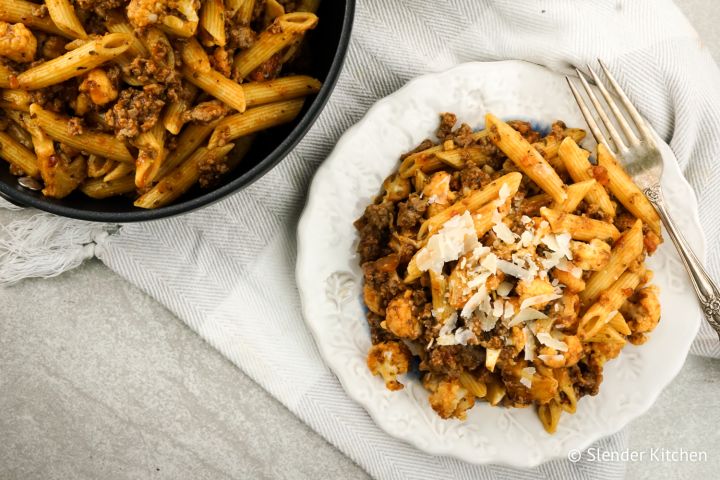 Garlic Sausage Pasta with Cauliflower Recipe
This easy pasta dish is the comforting meal you have been craving now that the nights are getting cooler. A hearty and light pasta dish filled with lean turkey sausage, earthy cauliflower, and plenty of flavor. If you are a sausage lover, you also need to try this Turkey Sausage and Broccoli Pasta.
When it's cold at night, I love curling up on the couch with a big bowl of pasta. A few nights back,  I made this simple cauliflower and sausage pasta dish that we devoured. Originally I wasn't planning on sharing it, but we loved it so much, I had to. The sausage adds depth and flavor to the cauliflower and sauce plus it helps the cauliflower to brown and caramelizes in the pan. Yum.
When it comes to pasta dishes and keeping things healthy, my strategy is usually to pack in the veggies. This recipe has almost equal amounts of pasta and cauliflower, but no one will even notice since the cauliflower absorbs all the delicious flavors of the sausage and sauce. 
Also, I almost always use high fiber pasta or whole wheat pasta. Personally, I prefer whole wheat, but the rest of the house likes the more "traditional pasta," so many nights its high fiber white pasta. Both are great options and will help you sneak in some extra fiber and whole grains. Alternatively, you could use spaghetti squash or zucchini noodles for a low carb option. I would just recommend doubling the sausage to make sure it is filling enough.
There's not too much more to it than that. Top it all off with some fresh Parmesan cheese and fresh basil and dinner is ready.
Recipe Ideas
Make a creamy sausage pasta by adding in 1/4 cup of reduced-fat cream cheese or some half and half. You won't believe how indulgent it makes this healthy spin on pasta taste.
Add some greens with spinach. Simply throw in a few handfuls of spinach in the last couple of minutes of cooking and it will melt right into the sauce.
If cauliflower isn't your thing, you can make this with broccoli, zucchini, summer squash, carrots, butternut squash, or peas. Pretty much anything will work, just adjust the cooking times.
The sausage is key to building flavor in this dish so make sure to choose a sausage that tastes really good. Ground sausage works best since the oil released during the cooking process helps to brown the cauliflower and flavors the entire dish. 
Add some bell peppers to the mix for a classic sausage and peppers type of dish. Just saute it along with the onion.
Although I finished this pasta with Parmesan cheese, you could also top it with mozzarella, goat cheese, or even feta. 
Tips for Making this Garlic Sausage Pasta
There are lots of great options for lean ground sausage in the grocery store. Usually, I reach for a spicy lean ground turkey sausage, but any option will work. You could also make your own using ground beef, turkey, or chicken. However, it is important to choose ground sausage since the fat from the sausage will help the cauliflower to caramelize and brown.
The sauce for this pasta dish isn't very liquidy and some people may find they want to add more tomatoes. Just make sure to kick up the seasoning if you add extra tomatoes so that the sauce stays nice and flavorful.
I like things on the spicy side, so I add a good dose of red pepper flakes to this dish. It's delicious and pairs really well with the cauliflower. 
Frozen cauliflower will work in this recipe but it won't get quite as browned and caramelized. Still delicious though.
Looking for more healthy pasta dishes?
Here are some of the products and tools I used to create this dish:
San Marzano tomatoes are the best option out there for canned tomatoes. They are sweeter and less acidic than normal diced tomatoes. If you can find them, I recommend using San Marzano diced tomatoes or chopping up the normal canned San Marzano tomatoes. It makes the sauce much better in my opinion.
Source link
Get more recipes like this
Subscribe to our mailing list and get delicous recipes and updates to your email inbox.
Thank you for subscribing.
Oops...Something went wrong.