Korean Chicken Thighs are packed with tons of sweet and spicy flavors but make a surprisingly light dinner with just 250 calories.
Jump to Recipe keyboard_arrow_down
254 CALORIES

11g CARBS

8g FAT

30g PROTEIN
6 Green
6 Blue
6 Purple
MyWW® SmartPoints™ New!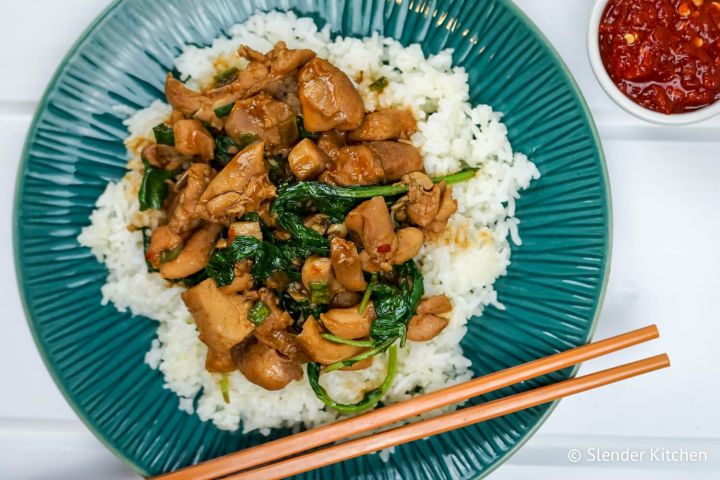 Korean Chicken Thighs Recipe
You seriously can't beat the flavor of this easy Korean Chicken are an easy weeknight meal that will quickly become a family favorite when you are craving Asian take-out. Plus the leftovers are absolutely delicious for lunch the next day when the flavors have even more time to soak into the chicken.
For a long time, I have been pretty obsessed with Korean flavors. I love the mix of sweet and spicy flavors and always wondered what the secret sauce was so I could recreate it at home. Turns out one of the secrets of delicious Korean food is a chili paste called gochujang, which is a sweet, spicy, and savory paste made of fermented red chilies, sticky rice, and soybeans.
It may sound a little out of your comfort zone, but I promise it's delicious. Plus as Korean flavors become more popular, I am able to find it in my local grocery stores in the Asian section. (If you can't find it, you can order it on Amazon.)
To make this an easy weeknight meal, I usually try to toss the chicken into the marinade in the morning so it will be ready to go when dinner time comes around. Then when it's time for dinner, I just toss the chicken into the pot and get some rice or quinoa cooking.
Since I am always trying to sneak in some extra veggies, I usually either steam or roast some broccoli as well to add to the dish. In about 30 minutes, dinner is ready and if your family is anything like ours, everyone will be going back for seconds so you may want to consider doubling up the recipe.
Tips for Making Korean Chicken
If you prefer chicken breast to thighs, you could use those instead. Just watch the cooking time since chicken breasts tend to become dry when cooked too long. I would reduce the simmering time to about 10 minutes.
Gochujang can really vary when it comes to spice. Taste your marinade before adding the red pepper flakes. If it is already plenty spicy for you, leave out the extra red pepper flakes. If it isn't spicy enough, add some extra.
The leftovers from this dish are amazing so plan on making extra. Personally I love using them in lettuce wraps, rice bowls, and Asian inspired tacos with some crunchy cabbage on top.
Since the sodium level can be high in this dish from the gochujang and soy sauce, make sure to look for a low sodium soy sauce or consider using coconut aminos, which have significantly less sodium than soy sauce.
What is gochujang?
Gochujang is a spicy Korean paste that is made from chilies, fermented soybeans, and some kind of sweetener. It is used in all kinds of Korean dishes and often used to marinate meat. The exact level of spice and sweetness vary between brands so it is always best to taste the paste before adding it to a recipe. It can be found in many grocery stores or Asian specialty stores.
Can I cook this on the grill?
Sure! Keep the chicken thighs whole and marinate them for at least 1-2 hours before cooking. Then remove the chicken from the marinade, letting the excess drip off. Cook on the grill for 4-5 minutes per side or until cooked through. Saute the spinach on the side or choose a different vegetable.
Side Dish Ideas
There are so many options for serving this sweet and spicy chicken. Rice is the natural choice since it is a staple in Korean cooking. You can also grab some kimchi, sprouts, or pickled carrots to serve on the side. Sauteed or roasted vegetables pair well with the flavors of the chicken. Usually, I like to roast the veggies in sesame oil to keep a similar flavor profile. Some favorites include broccoli, cauliflower, cabbage, or sugar snap peas. 
For a lower carb option, you could serve this with some cauliflower rice, zucchini noodles, or spaghetti squash. It's also delicious wrapped up in lettuce wraps with some crunchy raw veggies on top. 
Looking for more Asian style chicken recipes?
Source link
Get more recipes like this
Subscribe to our mailing list and get delicous recipes and updates to your email inbox.
Thank you for subscribing.
Oops...Something went wrong.