This twenty minute Chicken sausage and Vegetable Skillet dinner packed with savory chicken sausage and tons of fresh veggies is perfect for a busy weeknight.
Jump to Recipe keyboard_arrow_down
225 CALORIES

15g CARBS

9g FAT

18g PROTEIN
5 Green
5 Blue
5 Purple
MyWW® SmartPoints™ New!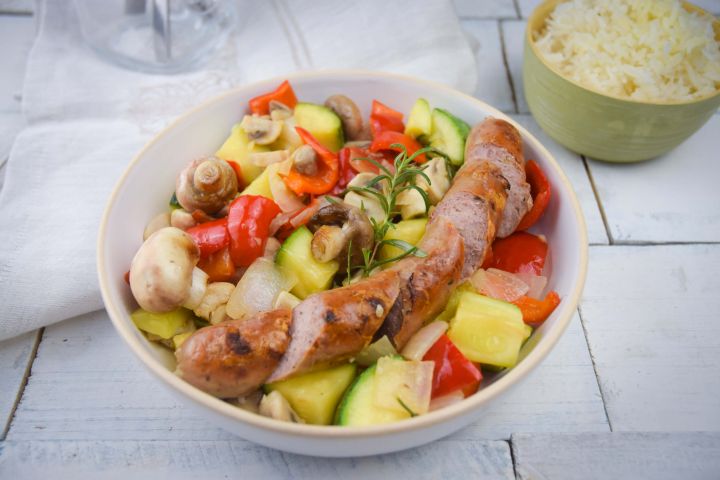 Rosemary Chicken Sausage and Vegetable Skillet Recipe
Sometimes all you need is a quick-and-easy meal that you can feel good about eating and feeding to your family. This is that kind of meal. Packed with fresh veggies and lean protein, this Rosemary Chicken Sausage and Vegetable Skillet will quickly become one of your go-to meals for those busy weekday nights.
It comes together easily (in just one skillet, so simple clean up too), and it's a real crowd-pleaser. My whole family loves this dish and everyone can find something they like in it. From the sausage to the various types of vegetables and spices, it's a meal no one will fuss about.
Plus, it's so easy to switch up the flavors by mixing up the sausages, fresh herbs, and veggies. To make it heartier, consider adding some par-cooked red or sweet potatoes to the mix. Served over a bed of couscous, mashed cauliflower, or polenta and dinner is ready.
How do you make Rosemary Chicken Sausage and Vegetable Skillet?
First thing's first: chop up all your veggies and your sausage and have it ready to cook. Get out a medium to large skillet and put it on the burner over medium-high heat. Add olive oil to the skillet and cook the sausages first. Cook these until they are browned on each side. This should only take about 5-7 minutes.
Next, add to the skillet with the sausages the rosemary, peppers, and onions. Cook those ingredients down for another 5-7 minutes or until the veggies start to brown and tenderize.
Finally, you'll add in the remaining ingredients: garlic, squash, and zucchini. Cook those veggies down until they are softer but not mush. Tender-crisp is what I like to call that sweet cooking spot for these veggies. This should be a shorter amount of time, about 5-6 minutes. If your skillet starts to get dry, you can add a tablespoon or two of broth or water to add moisture back to the pan. Season with salt and pepper and squeeze the lemon juice over the top when it's done cooking. Serve!
How do I serve a Sausage and Vegetable Skillet Meal?
If you'd like a little something, something with the Rosemary Chicken Sausage and Vegetable Skillet, I got you covered:
Polenta is a fun carb component to serve under skillet meals. Polenta rounds are easy to cook too.
Serve this skillet dish over white or brown rice or even cauliflower rice.
You can also spoon the chicken sausage and vegetables over wide egg noodles or another pasta. Try gluten-free pasta if you have a gluten sensitivity or try a noodle made out of chickpeas or another grain for a lower-carb option.
Couscous is another fun grain that goes great with this skillet recipe. Serve it under the sausage and veggies, or mix it all together.
Try a cauliflower mash under this dish. You'll get all the extra fiber and nutrients you want from extra veggies, and you won't even notice you're eating cauliflower. Kids love it too!
Serve this dish with a side salad for an extra hit of plant power.
Recipe Ideas and Tips
Swap veggies: Not a fan of the vegetables listed in the ingredients? Add in your favorites. Some ideas include eggplant, cubed butternut squash and/or sweet potatoes, red onions, broccoli, and cauliflower.
Add some heat: If you love spicy food as much as we do, consider adding to your dish hot pepper slices (like jalapenos), red pepper flakes, or hot sauce on the top once you have it plated. (Sriracha is a favorite in this house.)
Make the dish more filling: Try adding some parboiled potatoes to the dish right before serving. Russet, red, yellow, sweet — any potatoes you like will go great with this sausage skillet dish.
Cook the veggies in order: You want to be sure to cook the vegetables in order because they go from the ones that take longer to cook to the ones that cook faster. So, for example, if you cook the zucchini with the onions, you'll end up with a slimy, mushy zucchini by the time the whole dish is done.

Can you freeze this recipe?
Yes, you can freeze this dish for later. Make sure it's cooled to room temperature, then put the dish into an air-tight, freezer-safe container with a lid or into a Ziploc baggie with all the air squeezed out. I like to label my freezer meals with what the dish is and the date I put it in the freezer so I know what it is and when to eat it.
This dish will keep in the freezer for 3-5 months.
Looking for more chicken sausage recipes?
Source link
Get more recipes like this
Subscribe to our mailing list and get delicous recipes and updates to your email inbox.
Thank you for subscribing.
Oops...Something went wrong.